As Moneris celebrates its 20th year in business, we're highlighting the incredible members of our team who have been here since the very beginning. Each month, we'll feature an in-depth interview here on the blog and on our social accounts highlighting their unique Moneris experience over the years.

This month, meet Caleb Reynolds, Director of Software Development, Front End Platforms. Caleb is responsible for many of Moneris' front end payment platforms, including Gateway, IPgate, Cloud, Moneris Checkout, Transit, Moneris Shopping Cart, Moneris Go as well as Moneris.com.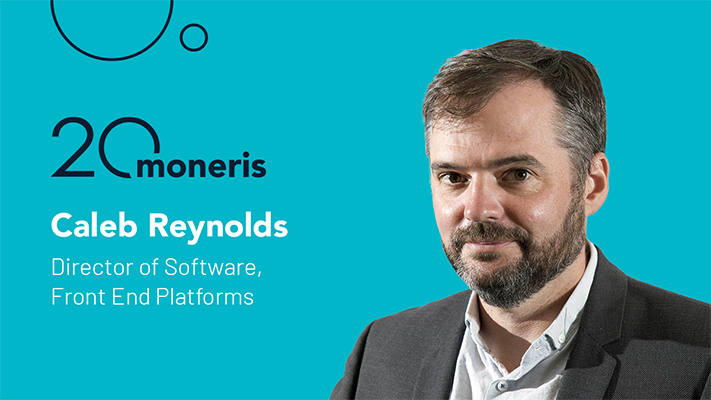 Congratulations on your 20th anniversary with Moneris, Caleb! Did you imagine 20 years ago that you'd still be with Moneris?
When I first joined RBC 20+ years ago I was hired to answer the phone on a support desk. I figured I'd be there a year or two. Here we are 20 odd years later, a little more grey and hopefully a little wiser.
What's the thing about your job that gets you excited to go to work every day?
There are two things that get me excited about going to work everyday. First, the people. I enjoy the people I work with. I am an introvert at heart, so this organization is doing something right if I come to work to be with people. The other is the challenge. These challenges range from coming up with new ideas, solving a problem, designing a solution. Since the day I joined Moneris, at no point would I use the word repetitive to describe my work.
Your career path has led you to a leadership role at Moneris. What's been the biggest lesson you've learned on your journey?
I have had some great role models in my time at Moneris. They were inspiring from a professional knowledge perspective, but also how they treat people as individuals in a professional environment. They inspired loyalty through valuing an individual's ideas; encouraging ownership; and through recognition of the individual contributors and the team as a whole to the greater organization. My role models gave me the opportunity to grow and hopefully through what I have learned from them, I can do the same for my team.
Can you think of a time where something you were working on did not go as planned and how that experience has helped shape you into the leader you now are?
Things don't go as planned on a fairly regular basis. That's probably why I am the way I am now. I think it would be difficult to pinpoint any individual event. Through losing key staff, projects getting mothballed, delays... the key is to take the incremental learnings and do your best to not have the situation repeat itself. But more importantly to be resilient and, despite the setback, know that regardless of the situation, it's an opportunity to make things better.
How has the industry as a whole changed since you started?
When I started, most merchants used dial-up or a dedicated datapac line (yes I know very few people know what those are) to process transactions. RBC did not have an eCommerce solution. When I moved to the ecomm team, there were very few merchants and a "fast" eCommerce transaction took over 20 seconds! So a lot has changed. Actually, everything has changed. But the biggest change I would say is the actual rate at which change is happening. The rate at which the technology is evolving and the solutions we provide is changing is constantly accelerating.
Why should someone consider a career at Moneris?
When I'm participating in interviews or job fairs, this is always the easiest question to answer. It's a great environment for so many reasons. It is a constantly evolving industry and it is evolving at a faster pace than ever before, with plenty of opportunities to play with new technologies. At the same time, it is not as volatile as a start-up. There is stability provided by our parent banks. But it really goes back to the same reason I am here twenty plus years later—the people and the challenges. It's not often you are given the opportunity to work with teams of bright people on interesting challenges and solutions.

Check back here next month when we spotlight another Moneris employee celebrating his or her 20th year with Moneris!