As Moneris celebrates its 20th year in business, we're highlighting the incredible members of our team who have been here since the very beginning. Each month, we'll feature an in-depth interview here on the blog and on our social accounts highlighting their unique Moneris experience over the years.
This month, we talk to Tanya Becker, Director, Customer Experience Contact Centres. In her role, Tanya is accountable for the Contact Center operation across Canada and delivering on our brand promise of a Best in Class Customer Experience.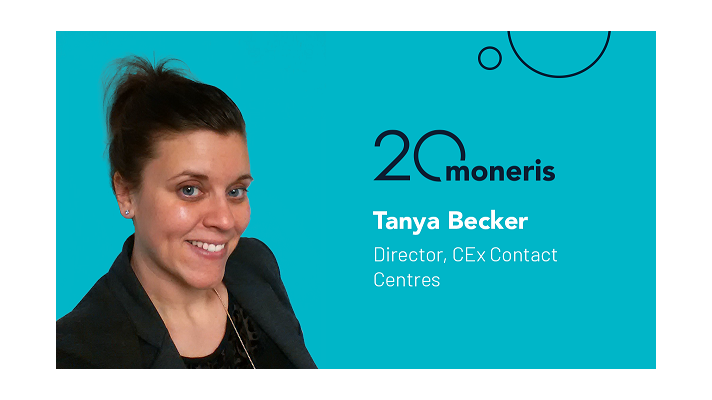 Welcome, Tanya. Happy 20th Moneris anniversary! How has the industry as a whole changed since you started?
Technology. When I started my career, the applications and technology tools we had in the industry were limited. Technology has changed how we gather feedback, how we track and analyze customer data, and how we collaborate and interact with our customers and partners. Technology advancements have allowed us to be more agile and get to market with new products and services quicker than ever before!
What's been the biggest lesson you've learned on your journey?
When we rally together around a common goal, we can achieve great things! I have seen this time and time again throughout my career at Moneris.
Can you think of a time when your work did not go as planned? How did that experience help shape you into the person you now are?
Yes, things do not always go as planned. An example of this would be the pandemic and the transition of the contact center to the new work-from-home model. This experience helped me learn to adapt and changed how I engage with and lead our teams in our new virtual reality.
What's the thing about your job that gets you excited to get to work every day?
The opportunity to help and support others. Being there for our customers so they can focus on running their businesses and supporting employees to be their best authentic selves as they work towards achieving their career goals.
What do you think the future holds for your career?
I am hoping for another 20 GREAT years filled with new experiences, new learnings and new friendships!
Why should someone consider a career at Moneris?
Moneris is a socially responsible organization, contributing positively to its local communities and the environment. It makes me proud to work for an organization that sees the value in supporting local communities!

Check back here next month when we spotlight another Moneris employee celebrating his or her 20th year with Moneris!