It's never been more critical for your business to be online. Originally published on LinkedIn, we follow up with entrepreneur Barry Hillier on starting an ecommerce business during the pandemic and their plans for the future as Canada moves forward with phased re-opening.
It Starts With an Idea
I've been working in the coffee industry for almost a decade. What began as a branding and marketing project for Mother Parkers grew into a serious passion for the coffee business.
Over the years, I developed an even greater appreciation for the business by travelling to Costa Rica, Vietnam, Kenya, Uganda, and Ethiopia-the birthplace of the bean.
I wanted to take my passion and dive deeper into the business by creating a company with our coffee blends. I initially began discussing this idea with my daughter in October 2019. We figured out the naming, prepared a business plan, and worked on product development. Eventually, we enticed my wife, friends, and some neighbours to become involved in this process. They brought incredible capabilities, personalities and talent to the team as our partners and investors.
Introducing Neighbourhood Coffee
Neighbourhood Coffee celebrates Toronto and its many neighbourhoods that make our city feel like home. With coffee, we want to bring the city together (at a safe social-distance, of course), so people can connect and turn neighbours into friends.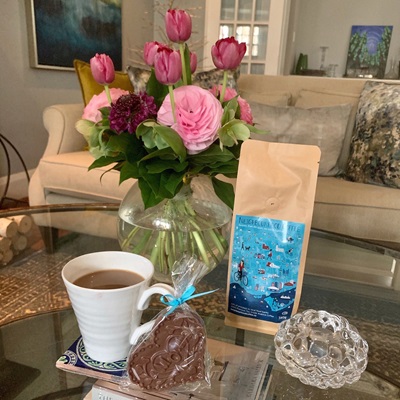 Roasted in small batches that use a unique blend of beans, our roast captures Toronto's diversity while maintaining a robust flavour. Sophisticated, energizing, silky and earthy, this blend exemplifies Toronto's eclectic and diverse nature.
In addition to selling coffee, we're introducing our customers to other small businesses in neighbourhoods throughout Toronto by "pairing" with them.
Building the Side Hustle during a Pandemic
Starting an ecommerce business with a staple commodity is very different than any of my past business endeavours. To start, we registered our company as a Federal Corporation using Ownr, an easy to use and affordable online registration system. It enabled us to do a name search, register the corporation, acquire the share certificates and get our articles of incorporation. Plus, we received a $319 credit when we opened up our RBC business banking account. We then used Law Depot to draft our shareholder's agreement.
Next, we needed to set up a bank account and our payment processing. Since we registered the business during COVID-19, we had to find a way to get everything together while maintaining social distancing with the partners. However, RBC made sure we were up and running quickly. The next step was finding the right payment processor. After looking at different payment providers and comparing their credit card fees, we decided to go with Moneris, as they were able to provide a better rate than Stripe. As a bank-backed payment processor, the Moneris account was easily set up and linked to our RBC account. While this was a new exercise for me, my partner was able to get everything up and operational within a few days.
Initially, we wanted to sell our coffee at local farmers markets, but COVID-19 changed our plans. We needed an ecommerce website and decided to go with Shopify as our online platform for Neighbourhood Coffee. I've been involved in building websites since 1999, but this was the first time I didn't have a team working with me. Initially, the process was confusing, but after spending a few days working with the system, I got the hang of it. As we explored the platform further, we set up the analytics, ordering system, added products and created discount codes. While I wanted to play with the creative and tighten the theme a bit more, the platform was generally good.
One of our biggest challenges was delivery, as we are only delivering within the Greater Toronto Area. After trying several apps unsuccessfully, my partner was able to figure out both local delivery and national delivery. Once delivery was set-up, we ran around town looking for packing boxes, labels, and tape to manage our first out-of-province delivery to Manitoba!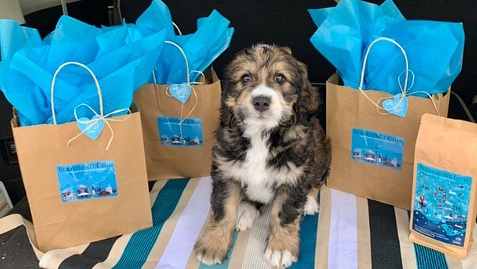 To incorporate, track and measure our success, we implemented Facebook and Google pixels for analytics and integrated our product lines for advertising. Both systems are convoluted, but we were able to get them running, including geo-targeting the Greater Toronto Area for digital ads. We then registered our business with Google my Business, using it to improve our SEO and expand our story through posts, adding to our online product pages and helping us build our product reviews.
Overall, we were able to get up and running, with legal documentation, banking and payment processing, and an ecommerce platform with full marketing capabilities simply and efficiently. Naturally, this doesn't include branding, creative assets or product development. Still, the level of sophistication involved in making this happen in the past would have been far more challenging and expensive.
We had an excellent start for our side hustle, generating significant sales during our first week. We've had a great response to our coffee. Customers love that we are collaborating with local businesses to support other Toronto entrepreneurs.
Managing a Business While Social Distancing
Managing a business has created some challenges for our team during a global pandemic. Since we initially looked into selling our coffee at local farmers markets in Toronto--that was our first problem. The pandemic changed our initial strategy, forcing us to sell online.
Some farmers markets began to re-open as the pandemic evolved, which led to new opportunities and additional limitations. Attending a farmers market during a pandemic requires you to adjust how you interact with customers and prepare coffee, including stringent cleaning protocols, to prevent contamination. To protect our customers, we had to ensure that anyone accepting payments on our Moneris terminal didn't handle or touch the coffee. We routinely wiped down the payment terminal and put up a plexiglass shield for our checkout area.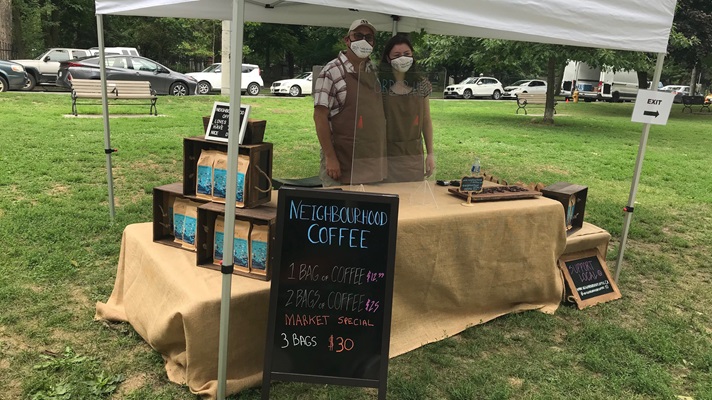 We were then accepted into the Cabbagetown Farmers Market. However, we weren't allowed to offer freshly brewed coffee this season due to the pandemic, which reduced our exposure, as shoppers prefer to taste the coffee before purchasing. Regardless, we managed to build a strong foundation with customers quickly, to the point where we needed more than one payment terminal. Luckily, we were able to secure an additional one directly through our Moneris representative right away.
Social media is a great way to spread our message to our community. We use CoSchedule to help us manage our posts and our social calendar in one place. The real key to maintaining a side hustle is to manage time and resources.
The Importance of Having Reliable Partners
It's critical to have strong, reliable partners for a successful business, especially a start-up. You face limited time, money, resources and abilities, so having internal and external partners who can help manage those limitations is vital. After all, hurdles will continually stand in your way and limit your potential growth. Being able to adapt our business by using key technologies, with partners who can help guide us, has allowed Neighbourhood Coffee to achieve more in a short amount of time.
Moneris has demonstrated they are a great partner for small businesses. Even though we are a small start-up, Moneris was able to provide a very competitive rate from the outset, which helped us manage our profit margins when every penny counts. We didn't need to be a large company generating tens of thousands of dollars to be essential for Moneris.
From opening the account to integrating it with RBC and Shopify, our Moneris representative spent a lot of time helping us. As we evolved, we were able to get payment terminals for the farmers markets within days. Our first one didn't work, but Moneris sent out a technical repair person to fix the problem at our location. From day one until now, Moneris has treated Neighbourhood Coffee like an established business.
Start accepting payments your way. Whether you run a pop-up shop, online store, bricks and mortar location, or all three, we have a solution to fit you through every stage of your business. Learn more.
The Future of Neighbourhood Coffee
Our efforts to date have been to build awareness and loyalty for our customers. We want to grow our product base, add new coffee blends, and create a subscription service that eventually leads to retail distribution. We also want to continue to promote local artisans and businesses along the way. Our future is being created one cup at a time.
That's why we aren't in a hurry. Neighbourhood Coffee is a passion for us. We're enjoying roasting small batches of coffee, attending farmers markets, and interacting with our customers on such a personal level. It's been a fantastic ride so far, full of learning, mistakes and finding new opportunities at every corner. We're excited to see how far we can go.
---
Interested in getting a taste of your neighbourhood? You can order online on their website, where they deliver right to your door. If you're a Toronto native, follow them on Instagram and catch them at your local farmers markets!
The information in this article is provided solely for informational purposes and is not intended to be legal, business or other professional advice or an endorsement of any of the websites or services listed.