As part of our latest partnership with the Conference Board of Canada we are pleased to present the following authoritative insights from their Index of Consumer Spending (ICS) which has been Powered by Moneris® Data Services. Our industry-leading consumer spending data and insights from point-of-sale activity combined with The Conference Board of Canada's expertise provides a coast-to-coast perspective on how the economy is trending.
• Growth in consumer spending decelerated further in Q1 of 2023. The Index of Consumer Spending (ICS) averaged 97.5 points in January, 92.8 points in February, and 89.5 points in March.

• Prices at grocery stores remain elevated and have shown no sign of coming down. Food inflation currently sits at 8.9 per cent (year-over-year), which means grocery bills are taking up a larger share of household budgets.

• The Bank of Canada decided to hit a pause on interest rates once again (keeping the target of the overnight rate at 4.5 per cent) as headline inflation seems to be headed in the right direction.

• We have yet to see the full impact of previous rate hikes. As a result, demand for durable goods will continue to cool throughout 2023.

• Canada's labour market performed surprisingly well in Q1 of 2023. Employment levels rose by around 200,000 jobs over the last three months, while the unemployment rate held steady at 5.0 per cent. Consumer spending would have been much weaker had the labour market not been tight.

Gain actionable insights with access to real-time Canadian consumer spending and location data with Moneris Data Services. Learn more.
Key Insights
Inflation eased to 4.3 per cent year-over-year, but food prices remain a concern for households.
The Bank of Canada's actions to reduce inflation is working, but the path back to two per cent will be slow. Higher interest rates have affected consumers' behaviour toward spending on major purchases – many households are refraining from purchasing big-ticket items. This is one reason why growth in consumer spending has decelerated. Households are also faced with rising food prices. The federal government announced in its budget report for 2023 that a one-time grocery rebate would be available for low- and middle-income individuals; this should help ease some inflationary pressures, but it will not fix the issue of rising food costs. Many global factors influence Canada's food production costs. Until external pressures ease, we may see elevated prices for several months.
Consumer spending trended upwards in Q1 of 2023, but year-over-year growth in spending has decelerated.
The labour market continues to be a bright spot in the Canadian economy. Healthy gains in employment over the last three months explain why consumer confidence improved in Q1 of 2023. As a result, consumer expenditures trended upward. Households have proven to be resilient during this period of high inflation – spending on services remains robust. However, signals in the consumer spending data suggest that higher prices have taken a toll on Canadians. The ICS trended downwards in the last three months, and year-over-year growth in consumer spending has decelerated below all measures of inflation. There could be a situation where growth in spending is negative (if adjusted for inflation) – which means that households could be spending less than they were last year. With the economy expected to lose steam towards the end of 2023, we expect growth in consumer spending to continue decelerating.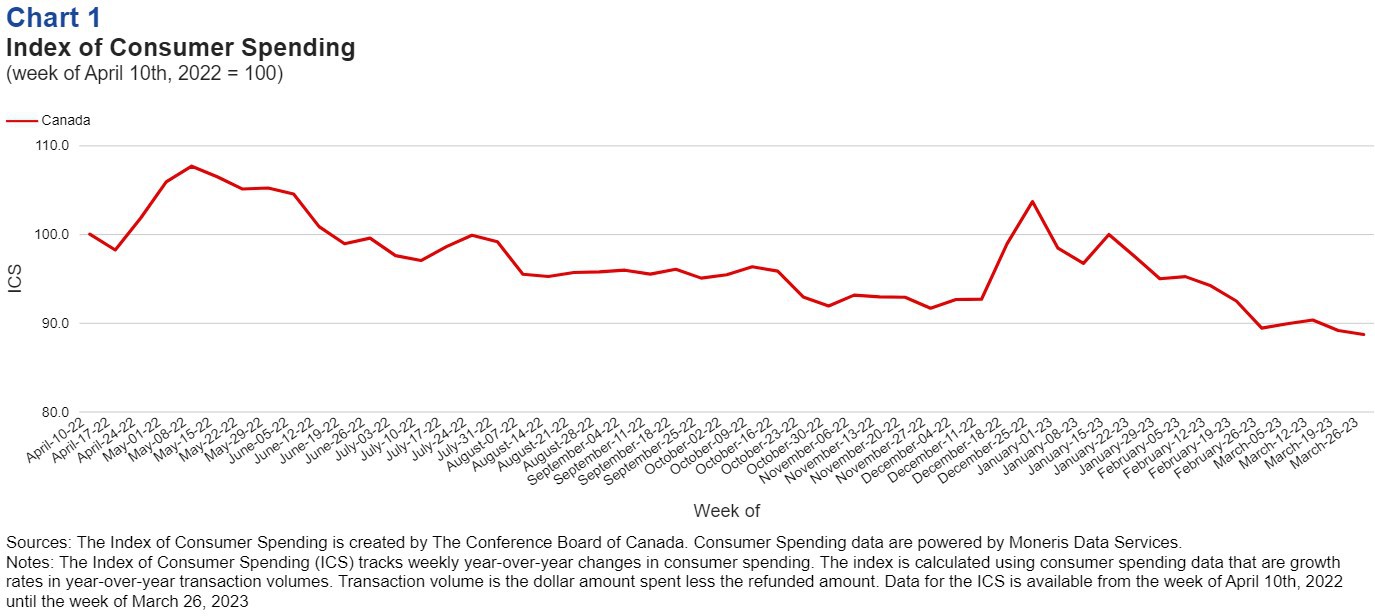 About The Conference Board of Canada:
The Conference Board of Canada is the country's leading independent research organization. Our mission is to empower and inspire leaders to build a stronger future for all Canadians through our trusted research and unparalleled connections. Index of Consumer Spending | The Conference Board of Canada.

Media Contacts:
The Conference Board of Canada
media@conferenceboard.ca / 613-526-3090 ext. 224
media@moneris.com / 416-734-1442
David Ristovski
Economist
ristovski@conferenceboard.ca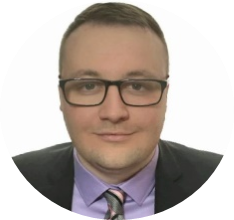 ---
MONERIS and MONERIS & Design are registered trademarks of Moneris Solutions Corporation. All other marks or registered trademarks appearing on this page are the property of their respective owners.