The pandemic has forced customers into new buying behaviours, including ecommerce-based contactless delivery methods such as carryout, drive-thru, delivery, and curbside pickup. With these new commerce trends come new types of frauds. Learn from A&W Canada, Moneris, Dunkin', and Kount on managing digital commerce growth by stopping fraud without customer friction.
Insights into new and emerging ecommerce trends
At a macro level, businesses must transition to selling digitally now, possibly faster than planned due to COVID-19. We see years of digital transition condensed down into a few weeks. In the past, perhaps less than 10% of your total business was ecommerce, but because of the pandemic and other market changes, it's 90% of your business. However, that's not tailing off. As some areas start to open up, customers are not transitioning back to physical locations as quickly as we potentially thought. They continue to maintain a digital-first interaction with businesses.

On a micro level, there is a shift in what types of products are bringing in fraud. In the past, it was mostly high-value goods with high resale value. While that's still true, the types of products are changing quickly. At the beginning of the pandemic, personal protective equipment was a high target for fraud. There was an instant resale market for these supplies. As the lockdown continues, Kount has seen shifting to sports and workout equipment – anything that the supply chain could not fulfill right away. Since the options are limited, fraudsters are taking advantage of the resale market.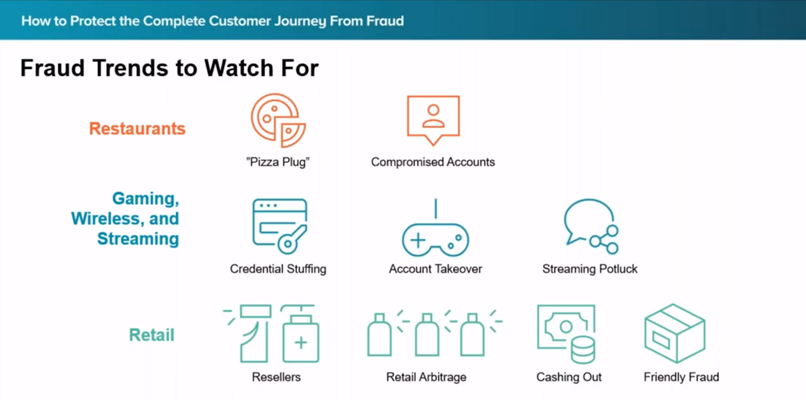 Moneris has seen a significant shift in card testing fraud, where someone tries to use stolen card information to make small purchases. In the past, this type of fraud may have been prevalent in charity and not-for-profit organizations, but now we're seeing that it has expanded to almost anybody. Any business that is brand-new to digital is a target for fraud because fraudsters assume that they may not have put thought into fraud prevention. For many small businesses, fraud protection is an afterthought. They are now rushing to have their products on the ecommerce market. Therefore, we're starting to see that they are becoming a target for fraud.
Strategies to protect your customers' complete journey
As part of COVID-19, there was a lot of encouragement for consumers to buy gift cards to support local businesses. There is now a considerable spike in gift card fraud. Gift cards are a great solution, but when you're introducing something new to your business, you have to think about the fraud prevention around that too! Educating every small business on the intricacies of fraud prevention isn't necessarily scalable. Instead, Moneris baked in fraud prevention to every single solution that we put out into markets. It's automatically there for our merchants to make sure that they're protected the moment they go online.
Changes in ecommerce fraud trends
Kount, on the other hand, is seeing changes that go beyond payments. Fraudsters will recognize holes in your business or new value opportunities. As businesses owners tighten up the protection around payments, here are other tactics that fraudsters may try: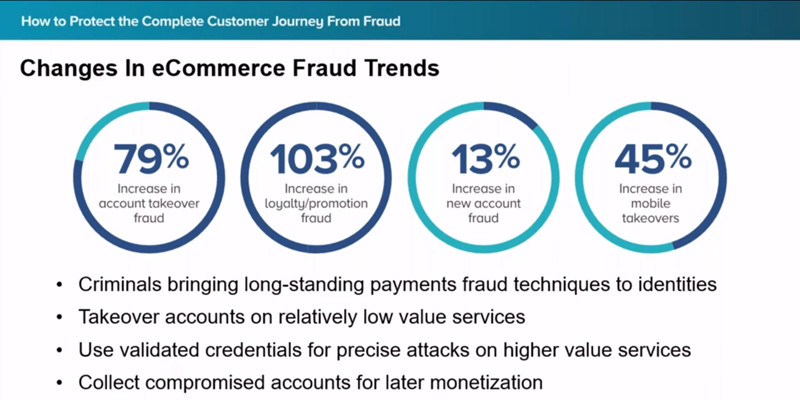 Importance of layering fraud prevention early in your business
It's challenging to see the value of fraud prevention. Small business owners may not experience fraud or understand the repercussions of not layering fraud prevention until it's too late. All of a sudden, if you're hit by fraud, it's almost is too late by that point because you're going to go from zero losses to significant losses.

While businesses may protect the point of transaction, they may not cover the entire customer journey from account takeovers. In a scenario where you're collecting data at the very beginning of your customer journey, but you're not protecting that data until at the point of transaction, that data can be stolen. Perhaps your business is not the target, but fraudsters have stolen your customers' data and used it to make fraudulent purchases at another company. If it's traced back to your business, it could lead to a loss for your businesses. Not to mention, there is reputational risk there if consumers find out that you were the point of compromise.

Fraud is continually shifting. You have to think about every single point of that customer journey and adjust your business model by layering your fraud prevention tools. Given the market shifts due to COVID-19, business owners have to think about what fraudsters might find valuable throughout the journey.
Benefits of using Moneris Kount Essential
With an increased urgency to evolve their business model, small businesses in Canada need a solution that not only helps them digitize their store, but also provides safe and secure payment acceptance options. Moneris Online delivers all of this along with clear, easy to understand pricing.

Moneris Online allows small businesses to use Bookmark's Artificial Intelligence Design Assistant (AiDA) to build a personalized, fully functional website in a matter of minutes. To complete the ecommerce site, Moneris Checkout and fraud protection tools like Moneris Kount and 3-D Secure are integrated into the shopping cart to enable quick and secure payments.

Kount, a Moneris partner, helps ecommerce businesses boost sales by reducing fraud and allowing you to accept more orders from more people in more places than ever before. With Moneris Kount Essential, you can get out-of-the-box fraud protection for your ecommerce business. It uses predetermined risk parameters based on your business size and industry to assess potentially fraudulent transactions in real-time.

Watch the full webinar and learn best practices to navigate new fraud trends and maintain business growth while enhancing the customer journey.
---
The information in this article is provided solely for informational purposes and is not intended to be legal, business or other professional advice or an endorsement of any of the websites or services listed.