In this feature of The Moneris Mosaic we shine a spotlight on Atia Sabour.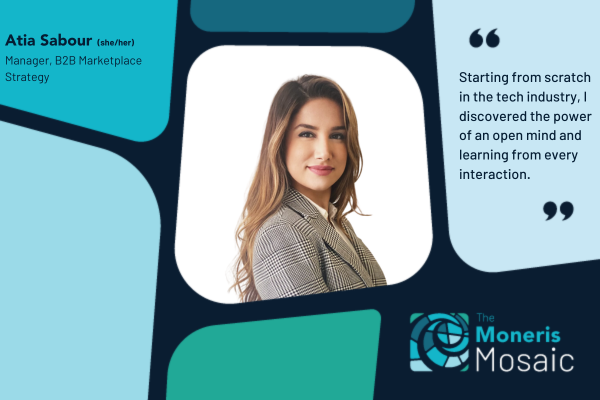 Have you ever thought of the FinTech industry as an industry dominated by men? Well, you're not wrong. Per Deloitte, the FinTech space has a gender diversity problem – too few women work in Fintech companies or startups, let alone women leaders.1 As a matter of fact, the same study found that whilst 30% of the FinTech workforce is made up of women, only 17% of senior roles are held by them.
Here at Moneris, we are proud to count numerous women leaders in our organization, particularly within our Sales & Marketing teams. As a matter of fact, 37% of our People Leaders at Moneris are women, and 45% of People Leaders across our Sales & Marketing department identify as women – when comparing to the industry benchmark, these are stats we can be very proud of!
For our first ever blog-style Mosaic feature, we sat down with Atia Sabour (she/her) – Manager, B2B Marketplace Strategy, to talk about her journey here at Moneris that led her to become a woman leader on our Sales team and what the last several years within the industry and organization have taught her. Atia brings a wealth of experience including field and regional sales, sales effectiveness coaching and most recently business-to-business (B2B) marketplace strategy.
Together, let's appreciate the beautiful mosaic of unique stories, like Atia's, that shape our exceptional team at Moneris.
1. What is your best advice for anyone looking to start their career in tech sales?
Starting from scratch in the tech industry, I discovered the power of an open mind and learning from every interaction. I made sure to walk away from every conversation understanding the customer's biggest challenge, and the thing that they love the most about their existing solution. Combined with product and process knowledge, this helped me build trust, credibility and a solid foundation for solution selling. Building positive and genuine relationships with customers, colleagues, and partners is crucial because, let's face it, we all prefer working with people we connect with. I also firmly believe that patience and persistence are key in sales, and they go hand in hand with consistency and self-discipline. The compound effect kicks in when we consistently do the right things day after day, and this is required for long term success in sales. I highly recommend diving into a sales role that involves cold calling or door knocking. Field Sales did wonders for me, it taught me resilience, resourcefulness, initiative, and creativity. These skills have shaped my career journey and remain invaluable.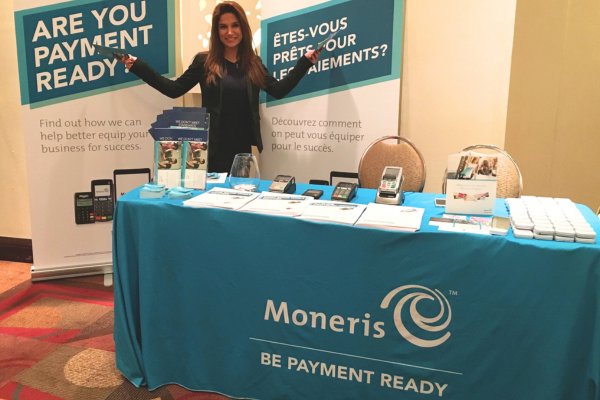 2.
What has your involvement in the Womxn@Moneris EIG been like, and how does it bring value to your personal and professional development?

Being a part of this wonderful group of women has been extremely fulfilling. Our gatherings are like a delightful treat, filled with laughter and shared experiences. The diversity within our group has been a constant source of learning for me, and I've been particularly inspired by our exceptional sponsor, Winnie Leung. Through this group, I've had the opportunity to forge and deepen relationships with women from various departments in the organization, many of whom I hadn't crossed paths with before joining. We're currently working on mentorship opportunities and group activities that could be a way for us to give back to the women in our community. From an early age, I've been dedicated to doing my part in supporting women and promoting equality between men and women. So, this experience has enriched my life in every way.
3.
On a personal level, what makes you passionate about the B2B Marketplace? How did the idea come to fruition from ideation to conceptualization?

I'm personally passionate about the B2B Marketplace because it originates from my mission to express gratitude and give back to our amazing merchants who stood by me in a difficult period of my life. During this time, our remarkable merchants went above and beyond to support me, in any way, shape or form they thought would be beneficial. In addition, Moneris' unconditional support and trust in my ability to overcome this challenging period was just as incredible.

I recognized that the best way to show my appreciation to both parties was by helping our merchants grow their businesses. So, I began connecting my network of merchants, enabling them to buy and sell products and services to one another at preferred prices. This sparked an idea within me: Why not extend this opportunity to all our merchants by creating a digital application? Over the course of four years, I worked on refining the idea and collaborated with them to shape the concept.

After a few years of dedication, the Moneris Lightbulb Day event provided me the opportunity to present the idea to the right people within the organization. With the support of my extraordinary manager, Rob Wilkinson, and our phenomenal Executive Leadership Team, the project was officially approved in 2020. Today, our product is very close to completion. Two things continue to drive my passion for it: Moneris' unwavering support of its mission which is to help our merchants grow their business, and the fact that it has been shaped by our merchants themselves. They have been an integral part of its journey every step of the way, making it a truly customer-centric endeavor from inception.
About The Moneris Mosaic
The Moneris Mosaic is an employee spotlight program that celebrates the stories of the people who make Moneris truly special. Just like a beautiful mosaic, this program brings together a variety of unique and colorful stories, coming together to create one inspiring image of our Moneris team.

Check back here next month when we feature another Moneris employee on The Moneris Mosaic!