As Moneris celebrates its 20th year in business, we're highlighting the incredible members of our team who have been here since the very beginning. Each month, we'll feature an in-depth interview here on the blog and on our social accounts highlighting their unique Moneris experience over the years.
This month, we talk to Suzanne Wright, Senior Manager, Partner Operations & Support. Suzanne provides leadership to the Partner Operations & Support team. The team's mandate is to create an optimal partner experience by providing value added support. Their goal is to accommodate the growing portfolio and enable the Relationship Managers to focus on business development and revenue growth. This team is responsible for a wide range of support activities as well as change management, ensuring partners are prepared to support any changes resulting from enterprise initiatives. This diverse partner portfolio includes Card Brands, Associations, Affiliate banks, and Strategic Partners that offer Value Added Solutions.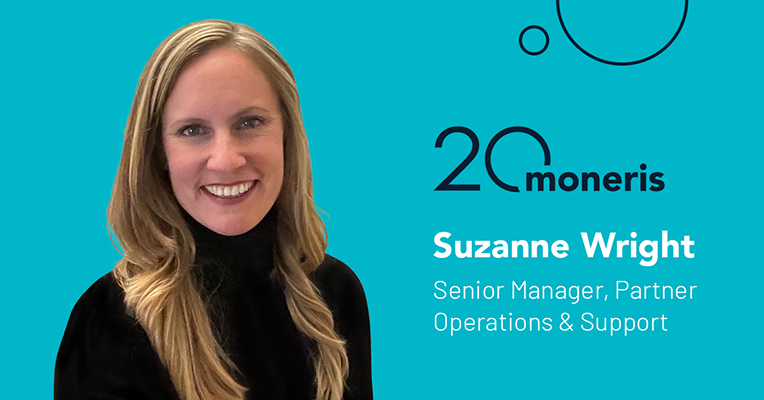 Hi Suzanne. Congratulations on your 20th anniversary with Moneris! How has your role in the company evolved since you started?
Thank you very much! It's been quite a journey. I joined Moneris from Royal Bank® where I was leading the Merchant Activation team, responsible for on-boarding new merchants for Visa® card acceptance. This role quickly grew in accountability to include Mastercard® card acceptance, Adjudication, and Escalation management. After 3 years, I assumed a role in the Project Management Office leading a team responsible for sales and operational readiness for enterprise initiatives, which included compliance mandates, pricing changes, and commercializing new products. I spent 10 years in the PMO (minus a mat leave J) with additional roles focused on Product & Emerging Technology, Innovation and commercializing ecommerce solutions. I always enjoyed the relationship management element to these roles so my next move was to the Strategic Partnerships group. I began with managing the RBC® and BMO® relationships and then moved on to leading a team that supports the broader portfolio of partners. My Moneris journey led me to three very different areas of the company, but the transferrable skills learned in each role proved to be valuable and complementary for the next.
What's been the biggest surprise about your job over the last 20 years?
The Partnership group is where all the cool stuff happens J so there are surprises every day, but the biggest surprise was actually 20 years ago. I was enjoying a rewarding career at Royal Bank when the opportunity to join the "new company" arose. I didn't jump at the chance. I was risk averse so the thought of working for a "start-up" wasn't my idea of safe! However, joining Moneris and being part of the transition was one of the best experiences in my career. Being part of this change was amazing - we had 2 of everything - departments, roles, processes, real estate, and we had to integrate all of it. It required collaboration with our new teammates that were, just one day before, our direct competition. It was exciting, intense and, at times, emotional. But it was very rewarding. We learned so much and surviving that first year was an accomplishment in itself, of which I'm very proud and often reflect upon the lessons we learned. This experience entrenched my respect for team work, building relationships and creating a network of individuals on which to count.
Can you think of a time where something you were working on did not go as planned and how that experience has helped shape you into the leader you now are?
I can think of many times! In this fast-paced, ever changing industry we often need to pause, reprioritize and modify our approach to ensure we are working on what matters. There were many times when things didn't go as planned, and I had to be flexible and adapt, and these experiences definitely influenced my approach to leading people. It is important to lead by example and demonstrate resilience in the face of adversity. Creating a trusting environment, particularly in times of significant change, will foster engagement, encourage people to take risks, and allow for continuous growth. This pandemic required me to lead virtually, which was very challenging but I learned that you can still be present, without actually being in person. It is also important to recognize and celebrate accomplishments. We mustn't solely focus on the work that lies ahead. We need to look back, often, to see how much we've accomplished. It will provide the motivation required to persevere.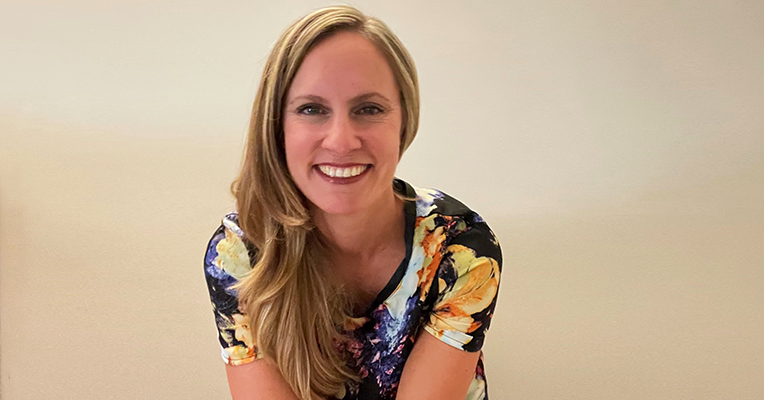 What's the thing about your job that gets you excited to get to work every day?
I have always been drawn to support roles because I thrive on helping people and I know that every day there will be an opportunity to do so. Whether it is providing guidance to a team member, resolving an escalation or developing a new approach to improve the partner experience, the work I do is meaningful. It is rewarding to help others achieve their goals but this wouldn't be possible without the amazing people I rely on everyday. I am grateful to have a dynamic team, a network of trustworthy peers, and supportive leadership.
What advice do you have for team members looking to advance their careers at Moneris?
3 Things. LEARN: take advantage of every learning opportunity, and be open minded because they will present themselves in many forms. Formal training is necessary for certain skills, but you can learn a lot from informal situations. Observe people you respect in action - how do they handle conflict? Job shadowing is a great way to learn about other roles. Leverage Moneris' extensive repository of resources to help with your journey. PLAN: create a personal development plan and discuss it with your leader to ensure you get the support you need. Don't limit yourself to specific areas, be open to trying new things. For example, if someone is interested in relationship management – it isn't just a role, it's a skill. Every position in the company has some element of relationship management, because building and maintaining relationships within the company is the cornerstone for getting things done. NETWORK: Get out and meet people and find out what they do. Join a committee - it's a great way to meet your peers from different departments. Find a mentor. Be a mentor! Because everyone has something to share. Participate in the many programs Moneris has to offer: Lightbulb Day, Toastmasters, and Career Fair.
Why should someone consider a career at Moneris?
There are opportunities for growth, chances to work with industry experts, and it's a place where individuals and teams are recognized for their achievements. For people leaders, Moneris provides resources and guiding principles, yet plenty of autonomy to encourage a personal approach. Moneris is socially and environmentally responsible and sets a fervent example for diversity, equity and inclusion. As demonstrated during this pandemic, this is a company that steps up when it matters, for their employees and their merchants. Whether it was introducing support services to help small businesses survive or providing employees with the resources they required to maintain a healthy balance. If a career built on collaboration, innovation and relevance sounds enticing, consider Moneris!

Check back here next month when we spotlight another Moneris employee celebrating his or her 20th year with Moneris!