The External PINpad
If you ordered the optional VX 820 external PINpad, please confirm that you have received the PINpad and the attached PINpad cable.
If an optional VX 820 external PINpad is connected to the VX 520 and your merchant account is configured for it, customers must use the PINpad during transactions requiring their input to key in information while you keep the terminal in front of you.

Setting up the External PINpad
1. Locate the PINpad cable (attached to the external PINpad).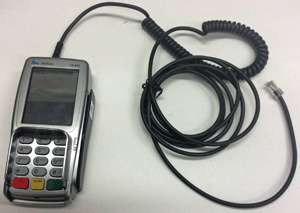 2. Open the connection well on the bottom of the VX 520 terminal.
3. If the terminal is currently powered on, power off the VX 520 terminal by disconnecting the power connector.
4. Follow the steps in the Connecting the VX 520 Cables topic for the rest of the connection instructions.