The External PINpad
If you ordered the optional VX 820 external PINpad, please confirm that you have received the PINpad and the attached PINpad power cable.
If an optional VX 820 external PINpad is connected to the VX 820 Duet and your merchant account is configured for it, customers must use the PINpad during transactions requiring their input to key in information while you keep the terminal in front of you.

Setting up the External PINpad
Before you start, please ensure the VX 820 terminal is powered off.
1. Locate the PINpad cable (attached to the external PINpad).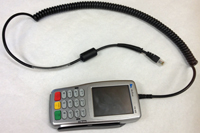 2. Plug the RS232 connector into the RS232 port on the back of the terminal base.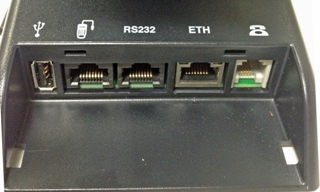 3. Plug the power connector into the power port (

) on the side of the base in the unlock position. Turn the plug counter-clockwise to put it in the lock position.
4. Plug the other end of the power cable into a power source.
Recommendations: Always plug the power cable into the power source last to avoid power surges. Use a power bar with surge protection where possible.
IMPORTANT: You must use the exact power adaptor and cables provided by Moneris to work with the Moneris VX 820 terminal and PINpad. Failure to do so may affect the operability of, or cause damage to, the equipment.
5. The terminal is ready when the applications menu appears and the external PINpad displays the "WELCOME/BONJOUR" screen.
Transactions with the External PINpad
1. Begin the transaction on the VX 820 Duet terminal.
2. When the "Swipe Card:", "Swipe/Insert:" or "Swipe/Tap/Insert:" prompt appears on the terminal, pass the PINpad to the customer for card entry (see Procedures).
3. When "Wait for PINpad" appears on the terminal, the customer follows the prompts on the PINpad.
4. When "Approved OK to Continue" appears on the terminal, retrieve the PINpad, press the green OK key on the terminal and complete the transaction on the terminal following the prompts.