Paiements entre les acheteurs et les fournisseurs
Optimiser votre processus de paiement
Moneris offre des solutions de traitement des paiements électroniques conçues spécialement pour les transactions interentreprises. Moneris a personnalisé ces solutions afin de répondre à vos besoins : faciliter les activités dorsales et accepter les cartes de paiement commerciales.
Vous préférez discuter de vive voix?
Communiquez avec un expert en commerce interentreprises
1 866 943‑8929
En quoi consistent les paiements interentreprises?
Ils permettent de connaître le succès commercial
Dans une certaine mesure, toutes les entreprises ont besoin d'autres entreprises afin d'exercer leurs activités. Des biens et des services sont achetés, vendus et fournis quotidiennement, qu'il s'agisse des domaines du transport, de l'énergie, des matières premières ou des finances.
Ils peuvent être complexes
Bien que les transactions interentreprises soient fréquentes, elles peuvent aussi être complexes et nécessiter d'importants efforts à traiter. Qu'il s'agisse des comptes débiteurs ou fournisseurs, la façon dont une entreprise paie ou reçoit de l'argent peut avoir une incidence sur son bénéfice net.
Nous pouvons vous aider
Ces paiements peuvent être compliqués, et nous le savons. C'est pourquoi nous avons rédigé notre livre électronique sur les paiements interentreprises : nous souhaitons vous aider à mieux comprendre l'écosystème entre les acheteurs et les fournisseurs ainsi que sa portée sur votre entreprise.
La valeur des paiements électroniques
Que vous soyez un acheteur ou un fournisseur, Moneris peut aider votre entreprise.
Fonds de roulement
Améliorez l'efficacité de vos rentrées de fonds et de votre gestion du crédit.
Processus simplifié
Diminuez les efforts requis afin d'obtenir les données transactionnelles requises pour le rapprochement des données et la production d'analyses détaillées.
Réduction des risques
Profitez d'une plus faible exposition à la fraude par chèque, aux mauvaises dettes ainsi qu'aux autres risques associés aux chèques.
Vous utilisez encore les chèques?
Dans la sphère des consommateurs, les clients s'attendent à payer au moyen de leur mode de paiement préféré. Cette tendance est de plus en plus répandue dans la sphère du commerce interentreprises : un nombre grandissant d'acheteurs souhaitent payer au moyen d'une carte de paiement commerciale. Les fournisseurs comprennent davantage l'importance d'accepter les paiements électroniques.
Les paiements électroniques et par carte ont surpassé les chèques dans l'univers du commerce interentreprises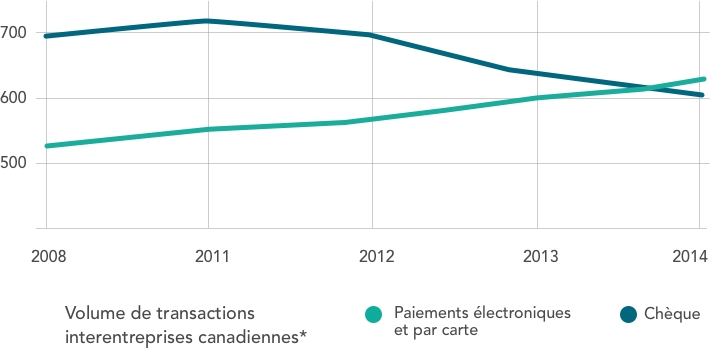 La façon préférée de payer
Les acheteurs et les fournisseurs peuvent tirer profit de l'utilisation ou de l'acceptation des cartes de crédit commerciales.
Avantages pour les acheteurs
Les cartes de paiement commerciales peuvent vous aider à allonger votre délai de paiement tout en diminuant les coûts de traitement des transactions. Vous pourriez également profiter d'avantages, comme des points ou des rabais.
Avantages pour les fournisseurs
L'acceptation des cartes de paiement commerciales peut accélérer les paiements, réduire les risques et faciliter la perception des paiements.
Nous concevons des solutions
La solution Paiements B2B Moneris n'est pas une solution universelle. Il s'agit plutôt d'une solution personnalisée afin de répondre aux besoins de votre entreprise. Que devez-vous faire afin d'obtenir votre solution idéale? Vous n'avez qu'à discuter avec nous. Après avoir évalué vos besoins, nous pourrons vous suggérer une solution sur mesure.
Paiements amorcés par l'acheteur
(solution Paiements B2B Moneris)
En savoir plus
Paiements amorcés par le fournisseur
(Passerelle Moneris)
En savoir plus
Nous connaissons l'industrie comme personne
Créée comme coentreprise entre RBC Banque Royale et BMO Banque de Montréal, Moneris est l'un des plus importants acquéreurs de transactions en Amérique du Nord.
Dans l'univers du commerce interentreprises, nous servons de pont entre les acheteurs et les fournisseurs en concevant des solutions personnalisées qui aident à traiter des paiements de façon rapide et sécuritaire.
Trousse d'outils pour le commerce interentreprises de Moneris
Explorez notre guide de ressources sur le commerce interentreprises, notamment un glossaire des termes, des vidéos éducatives, des articles, et plus encore.
En savoir plus
* « Le système de paiements au Canada – Préparé pour le Groupe de travail sur l'examen du système de paiements », Deloitte & Touche LLP (septembre 2010); Statistiques annuelles 2010-2014 de l'Association canadienne des paiements; Statistics on payment, clearing and settlement systems in the CPMI countries, Canada – Figures for 2014, December 2015 de la Bank of International Settlements. Remarque : Les données et les hypothèses proviennent de plusieurs sources, et ne doivent être perçues que comme des lignes directrices.