Buyer & Supplier Payments
Optimize your payment process
Created for business-to-business transactions, Moneris offers electronic payment processing solutions. Customized to your needs, Moneris helps create back-office efficiencies while enabling commercial card acceptance.
What are B2B payments?
They drive business
At some level, every business requires another business to operate. Goods and services are bought, sold and supplied every day – from transportation to energy, raw materials to finance.
They can be complex
But while B2B transactions are common, they can also be complex, requiring great effort to process. Whether it's accounts receivable or payable, how a business pays or gets paid can affect the bottom line.
We can help
It can be complicated, we know. That's why we created our B2B Payments eBook, to help you better understand the buyer-supplier ecosystem and its implications to your business.
The value of electronic payments
Whether a buyer or supplier, Moneris can enhance your business.
Working Capital
Realize efficient cash flow and credit management.
Streamline Process
Decrease remittance efforts for faster reconciliation and detailed analytics.
Reduce Risk
Lower cheque fraud exposure, bad debt and other cheque-related risks.
Still using cheques?
In the consumer space, customers expect to pay using whichever method they prefer. The same is happening within B2B, with more buyers asking to pay by commercial card, and suppliers wakening to the big-picture value of accepting electronic payments.
Electronic and card payments have overtaken cheques within B2B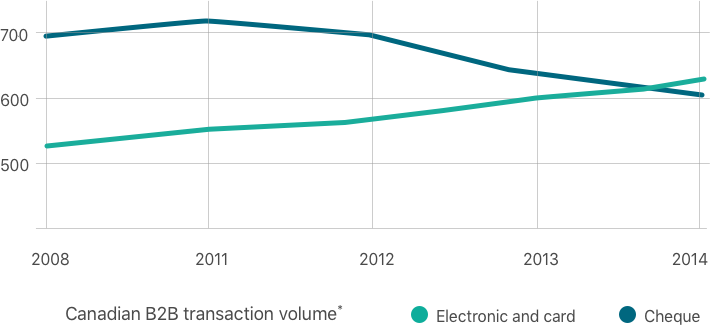 The preferred way to pay
Both buyers and suppliers can benefit from using or accepting commercial credit cards.
For Buyers
Commercial cards can help increase your payment window while lowering processing costs and offering perks such as points and rebates.
For Suppliers
Commercial card acceptance can mean speedier payments, reduced risk and effortless collection.
We build solutions
Moneris B2B is not a one-size-fits-all solution. Rather, it's a customized solution tailored to your business. So, how do you find the best fit? By talking to us. Once we assess your needs, we can suggest a customized solution.
Buyer-Initiated Payments
(Moneris B2B Pay)
Learn More
Supplier-Initiated Payments
(Moneris Gateway)
Learn More
We know the industry like no one else
Created as a joint investment between RBC Royal Bank and BMO Bank of Montreal, Moneris is one of North America's leading payment providers.
Within B2B, we work as the bridge between buyer and supplier, creating customized solutions that help enable fast and secure payment processing.
Moneris B2B Toolkit
Explore our B2B resource guide, including a glossary of terms, educational videos, articles and more.
Learn More
*"Canadian Payments Landscape - Prepared for the Task Force Payments System Review" Deloitte & Touche LLP, (September 2010); Canadian Payments Association, Annual Statistics 2010-2014; Bank of International Settlements, Statistics on payment, clearing and settlement systems in the CPMI countries, Canada – Figures for 2014, December 2015. Note: data and assumptions are from multiple sources and should only be relied on directionally.