The 2020 global pandemic has introduced significant shifts in billions of people's buying behaviours – from online shopping to in-store pickup. Ecommerce is embedded in our lives more than ever before, and the effects of that are irreversible for small businesses. According to Adobe Digital Economy Index, despite ecommerce sales growing slower in July than in June of 2020, they are still up 55% year over year, resulting in $434.5 billion in online spending. Not to mention, the trend of curbside pickup continues to grow, even as businesses reopen their doors.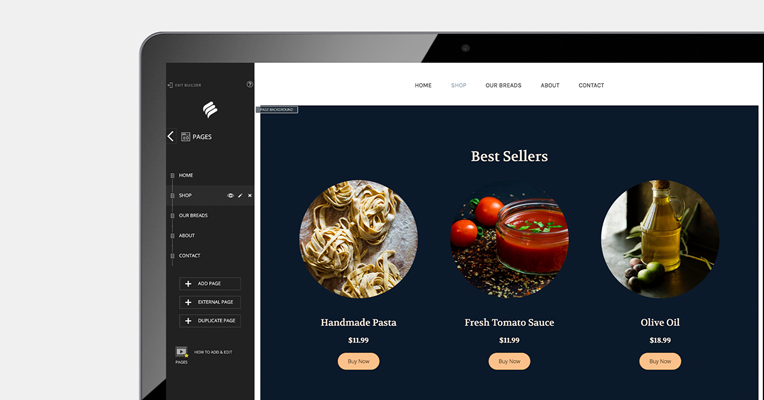 Investing in an online store is no longer just an additional revenue stream for your business; it's almost essential for success. With our Start Selling Online series, we're ensuring that you're using your resources carefully and set up your online business for scalable success. In the first part, we laid the groundwork with some pre-launch preparation by defining your primary audience, picking the top-selling products for your ecommerce store, and figuring out the shipping process for your orders.
The second part focused on what you need to know when choosing an ecommerce solution for your small business. We've made this easy with the help of our partner, Bookmark. Through their powerful AI-tool, you can easily create a high-quality website that reflects your business's personality. Next, we tackled site functionality, product photography and search engine optimization to create a solid foundation for building your online store.
Now that you've identified your market, nailed down your product photography, and picked an ecommerce platform, we'll focus on setting up your ecommerce store with Moneris Online. We'll discuss:
Bookmark's functionality to customizing your website
Elevating your website with a blog
Building your ecommerce store
Choosing the right shipping option
Understanding Bookmark's Functionality to Customize Your Website
Your customers are looking for you online now more than ever, so your business needs to have an online store. With Moneris Online and our partner Bookmark, we make it easy for you to sell online with an ecommerce website. With the support of Bookmark's Artificial Intelligence Design Assistant (AiDA), you can create a high-quality site in a matter of minutes.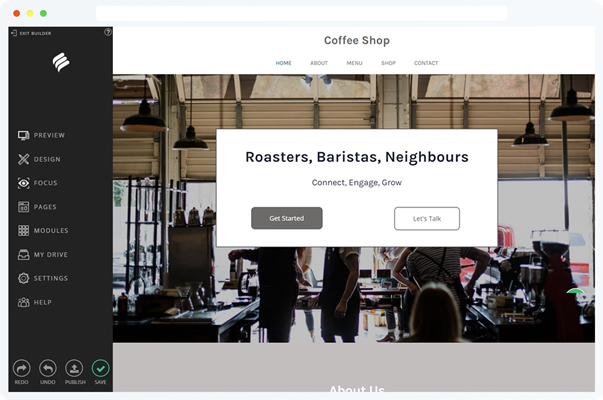 Preview
Once AiDA has created your website, make sure to preview it before you start customizing the website to your preferences. Bookmark is the only website builder that lets you see how your entire website will look from every device. As you explore your site in the preview mode, take notes of the exact elements you wish to change on each page.
You can also preview your site while building it, to make sure it is coming together according to your vision. It allows you to proofread your text, verify your images, and confirm that your page layout displays all elements according to your branding.
Design
The design settings allow you to customize the appearance of the default text, background colour, and overall page style. You can customize four elements to update your website's brand:
Brand: it refers to your website's header area where you display the name or logo for your website. Your brand can be either an image or text.
Menu Navigation: changing the menu design settings alters the page titles' size and appearance in your website's navigation menu.
Text/Title Fonts: this setting applies the font you select to all titles and text modules on your website.
Link: the link setting can change the colour of all the links for a consistent look throughout your website.
Focus
Focus is a set of fully functional web page sections that you can add anywhere on your website with a single click.
Each of Bookmark's website templates includes the full set of 20 focus sections, from call-to-action to image gallery. Each template's Focus is individually custom-designed to match the template style and theme. Whichever template you choose, you get it all, and it all fits together perfectly.
Pages
The templates already provide you with the standard pages, such as home, about, and contact. However, to make your website unique, you might wish to build on the templates to reflect your vision. All of the multi-page templates allow you to add extra pages and move pages within your website using a simple drag-and-drop interface.
Modules
Every element on your web page is a module. The templates are already fully designed with attractive layouts of useful features that you can quickly customize. These layouts are unlocked and fully customizable. Using modules is an easy way to add simple elements like a text box, title, image, video, button, and much more.
Compared to Focus, modules are the smallest type of building block. They do a particular, specific function—adding an image, a button, or a title. Focus are larger sections made up of several modules in a style that fits each template, such as content layouts, a price table, or team member profiles.
Drive
My Drive is your storage area for all the images and other files used in your Bookmark website. It is part of the website builder for all templates.
Elevate Your Website with a Blog
Search Engine Optimization
Search engine optimization (SEO) can be daunting to a newcomer, but it is an essential aspect of your online presence. It's the practice of enhancing your website to rank higher on search engine results pages. Why does that matter? By ranking higher on the search result pages, your business will get more exposure, which leads to more visitors shopping on your website. Luckily, Bookmark offers site-wide SEO and advanced pages SEO to help you build an SEO-friendly website to help customers discover you organically.
Adding a Blog
There are many reasons why it is paramount to have a blog, but one of the most important reasons is it drives traffic to your website. Businesses that prioritize blogging are 55% more likely to receive traffic than those without a blog. Yes, it takes up a large chunk of your time, but it can create huge payoffs down the road, especially if you are looking to attract new customers organically. Consistent blogging increases your keywords' visibility, which improves your website's ranking in search results by increasing your exposure and number of clicks to your website.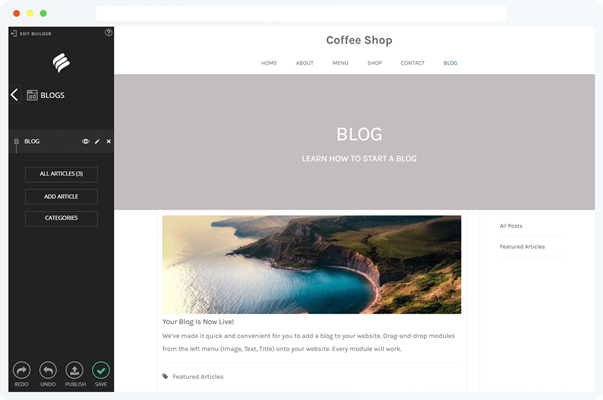 To create a blog for your website, follow these steps:
Go to the Website Builder
Settings
Blog
Once you are in the blog section, you will see a starting screen with a couple of options and three articles set up for you. You can change or delete these articles at any time. However, it is a good idea to read them first as they will give more tips around creating a blog.
Tips for Conquering a Small Business Blog
Conduct keyword research. You need to align your content with what people are searching for online. To be able to hone in on the right keywords, you need to do thorough research and incorporate relevant keywords into your title and throughout your blog.
Aim for optimized blog lengths. Even if you write a 20,000-word blog post, it won't change the outcome if the content is low quality. However, if the content is quality, blog posts of 1000 words and up typically get the most shares. Although you will be hard-pressed to determine what the ideal word count is, one thing is for sure: long-form content is better than short-form content.
Incorporate visuals. It takes a lot more than great content to stimulate an audience. Statistically, 65% of people are visual learners, and visuals make it easier to remember content.
Address customer queries. Another tactic is to ensure you make your customers feel valued. One of the best ways to do that is by addressing customer queries on a specific blog topic. It helps to put you in good standing with your customers while creating actionable content and keeping readers engaged.
Invite others to guest post on your blog. Guest posting is a great way to increase your website's page rank. The benefits don't stop there. For starters, it will save you a lot of time. Secondly, inviting a guest blogger can help give your blog a fresh voice and a new outlook on topics. Lastly, those who you ask to guest post will ask you to guest post for them, as reciprocity is commonly understood to be mutually beneficial among bloggers.
Building Your Ecommerce Store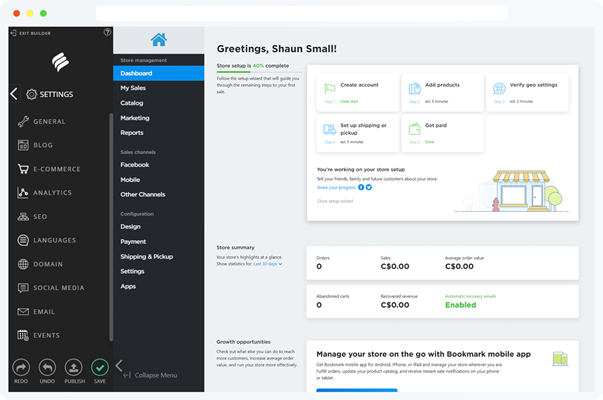 Setting up your online store with Bookmark is fast and easy. From adding products to setting up payments, the setup wizard can help guide you through all the steps of building your store.

If you need a more in-depth tutorial, this video takes you through all of the steps to setting up your store.
Enable the Power of Ecommerce with Moneris Online
With Moneris Online, our comprehensive online payment solution, you can quickly and securely process customer transactions on your website. Not only does it support major credit cards, our additional fraud-protection features add security protocols to help you prevent chargebacks.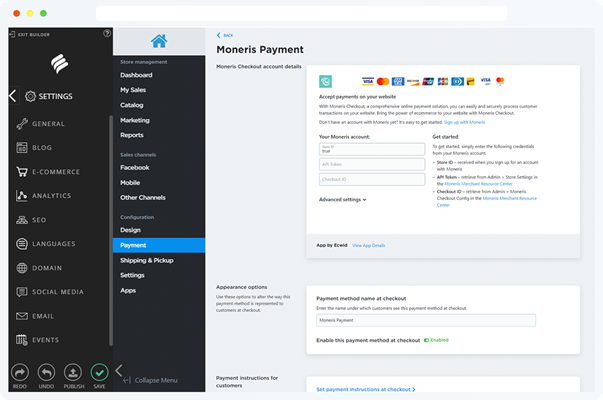 In your ecommerce dashboard, click on payment and select Moneris Checkout. To get started, enter the following credentials from your Moneris account:
Choosing the right shipping for your store
Before taking your first order, you must decide how to distribute your products. It would be best if you planned the shipping strategy for your store. There are two methods for distribution: in-store pickup, local delivery or delivery service like UPS.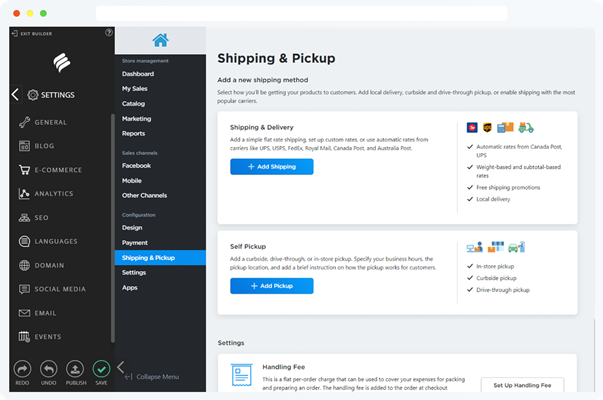 Curbside or In-store Pickup
To create an in-store pickup option, select Shipping & Pickup and then click on Add Pickup. Specify your business hours, the pickup location, and add a brief instruction on how the pickup works for customers. You can also enable the Date and Time picker for your in-store pickup option, allowing customers to specify when they will be picking up their order. Make sure to set the business hours, so customers don't show up when you are closed.
Use Delivery Service
Bookmark offers a flexible shipping setup, so you can use the strategy that works best for you.
Automatic shipping rates. If you ship products using a delivery service, you can charge your customers the exact rates you pay to ship their orders. This shipping rate is shown on checkout when a customer is placing their order. Shipping rates are calculated based on the order's details and retrieved from the carrier automatically. No additional setup is required.
Flat rate. Suppose you can calculate your average shipping cost to send a package. In that case, you can set a flat rate for every package, no matter how many items are ordered.
Free shipping and conditional free shipping. Free shipping attracts customers. One way to offer free shipping at a minimum expense is to include the shipping fee in your product's price. Just calculate the average cost of shipping and add this to your product's price. When offered above a certain threshold (e.g., free shipping for all orders over $50), free shipping can encourage customers to buy more.
Custom rates. Set your own shipping cost calculation rules based on order price, number of items, or weight.
Setup Your Store for Shipping
Bookmark integrates with many carriers to provide automatic shipping rates–a great starting point for small businesses with limited resources. Before connecting to UPS for real-time shipping quotes, follow these steps:
Mark products as shippable and enter products' weight. Specify weight value and tick the "Requires shipping or pickup" setting to ship products. You can do this in the product editing pages. To fill out the length, width, and height field, switch to the Tax and Shipping tab.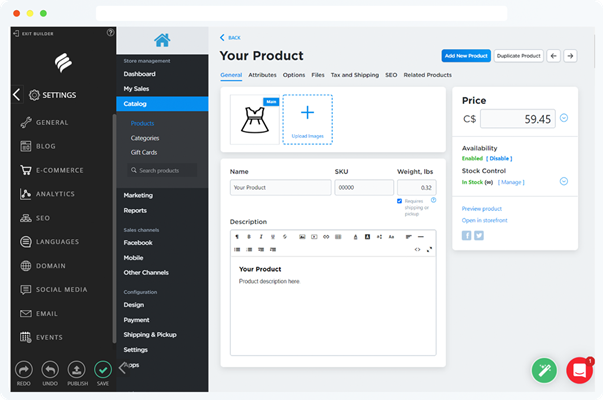 Specify the business location. The shipping origin address is the location from where you ship your orders. Integrated carriers use it as a ship-from address for calculating real-time shipping rates to deliver orders to buyers' locations.
To create shipping origin, go to Settings → General → Store Profile at the initial store set up and enter the business address. If you are shipping products from another place, specify that address as your shipping origin to receive precise shipping quotes from the carrier enabled in your store.
Integrate Real-time Rates from UPS
With the built-in integration with UPS, you can show shipping rates at checkout. Integrating your online store is super easy once you have marked your products as shippable and set your shipping location. In the Shipping & Pickup menu, select Add Shipping -> Set up UPS -> Automatically calculated rates from UPS. Fill out all of the necessary information to enable shipping.
Once you have enabled UPS, you must set up destination zones where you ship your products. If you are going to ship worldwide and offer all the available shipping options from UPS, there is no additional setup. However, if you want to ship orders within a specific area, you can edit the shipping method.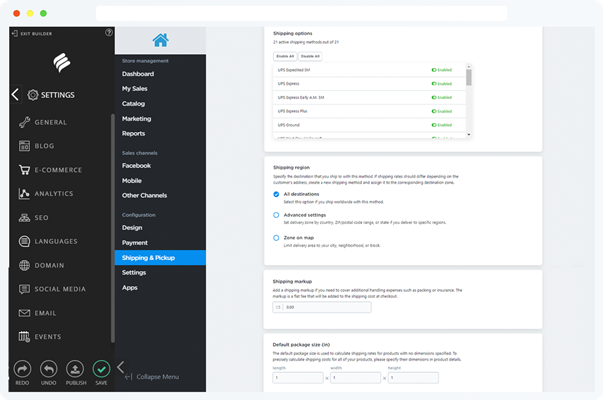 Back in the Shipping & Pickup menu, click on UPS and then select edit. The shipping options section enable the rates you want to offer at checkout. To choose the geographical area where you want to ship your products, create delivery zones in the shipping region section. The default package size can calculate real-time shipping rates for products with no individual dimensions specified. If most of your products fit into the same shipping boxes, you can set the package dimensions only instead of doing it separately for all of your products.
Moneris is here to help
Businesses like yours face unique challenges and need one essential solution to help keep your doors open is to start selling online. With Moneris Online, Bookmark, and UPS®, we make this easy!
With Moneris' robust payment platform, combined with Bookmark's simplified approach to website building and preferred shipping rates from UPS, you can get a complete ecommerce solution that helps you succeed online. It encompasses everything from website to sales to shipping, so you can focus on running your business while we take care of everything else.
We're always here to help, so you can easily transition online from a single point-of-contact from our dedicated team and enjoy ongoing assistance from our 24/7 customer support.

You've built your online store, set up payments, and enabled shipping – now what? You could wait for your target audience to find you. Or, you can be proactive and place your store right in front of customers who are interested in your brand. To set your online business up for success, you'll need to roll out a detailed marketing strategy to drive shoppers to your store. We'll take you through the journey of creating a marketing plan, covering everything from social media to email marketing to optimizing your website to get more traffic.
---
The information in this article is provided solely for informational purposes and is not intended to be legal, business or other professional advice or an endorsement of any of the websites or services listed.
1 This promotional offer (the "Offer") is not transferable, cannot be combined with other promotional offers or discounts and is time limited. In order to take advantage of this Offer and receive certain UPS preferred rates, you must visit ups.com and create a UPS account or sign-in with your existing UPS account. The services provided by UPS are subject to the UPS Canada Terms and Conditions of Service and such terms and conditions are available at UPS.com/ca.
2 This promotional offer (the "Offer") is not transferable. In order to take advantage of this Offer and receive 3 months of Bookmark Business Plan fees waived when you sign up with Moneris Solutions Corporation ("Moneris"), you must complete your application for the Bookmark Business Plan and Moneris Online between June 1, 2020 and October 31, 2020 ("Offer Period").