In this feature of The Moneris Mosaic, we shine a spotlight on Hazem Idleb (he/him).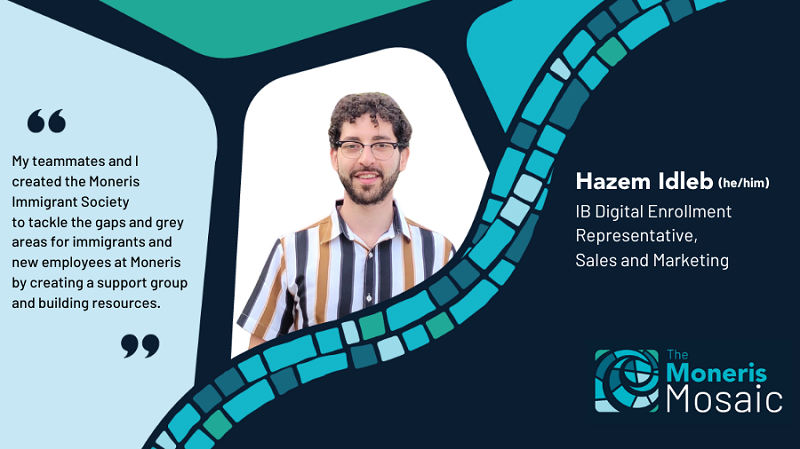 Hazem has been a part of the Moneris team for two years working in the Sales and Marketing department as a Digital Enrollment Consultant. Hazem has made great strides in his role and was awarded the 100% Achievement Award at the 2023 sales conference. But not only is Hazem passionate about his work, he is also an integral part to the growth of our Employee Inclusion Groups (EIGs).
Hazem and his colleagues created the Moneris Immigrant Society (MIS) to provide support and resources to our employees who have immigrated to Canada. Hazem's story focuses on his personal experience with moving to Canada from Syria and how this inspired him to create MIS. Together, let's appreciate the beautiful mosaic of unique stories, like Hazem's, that shape our exceptional team at Moneris.
Watch Hazem's story:
About The Moneris Mosaic
The Moneris Mosaic is an employee spotlight program that celebrates the stories of the people who make Moneris truly special. Just like a beautiful mosaic, this program brings together a variety of unique and colorful stories, coming together to create one inspiring image of our Moneris team.

Check back here next month when we feature another Moneris employee on The Moneris Mosaic!