The road to entrepreneurship can often be a lonely one. Founders can face an uphill battle to build a community or struggle to find support for their social impact goals. When eCommerce North was created, addressing these challenges was paramount.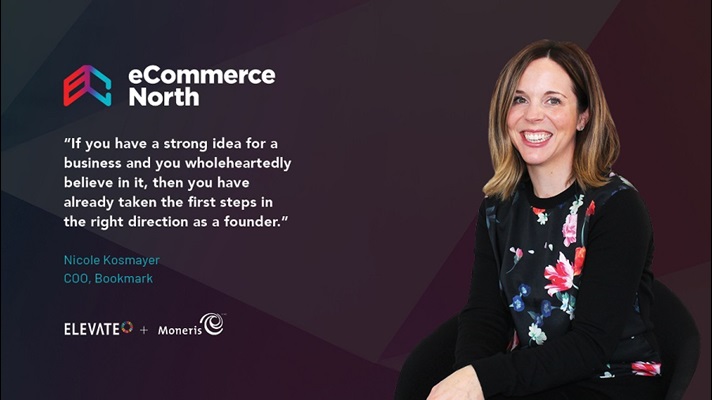 This is where our Partner-in-Residence, Bookmark, comes in. Bookmark is dedicated to supporting entrepreneurs through the process of starting, building and growing their online presence with their AI-powered website builder. Moneris and Bookmark are also in a strategic partnership to fully integrate online commerce with an end-to-end solution that not only digitizes online stores, but also provides safe and secure payment acceptance options. This powerful partnership is going to be a huge asset to the founders as they continue to develop their digital-first approach.
We connected with Nicole Kosmayer, Chief Operations Officer at Bookmark, to talk through the ways Bookmark will support our founders through their journey and how they hope to learn a thing or two themselves along the way.
Can you tell us how Bookmark will be supporting eCommerce North as a Partner-in-Residence?
As a Partner-in-Residence of eCommerce North, we are going to be sharing the story of Bookmark. We'll talk about topics such as the ups and downs of building a tech startup in Toronto, how we managed to secure a strong and amazing partnership with Moneris, the challenges and obstacles you will surely face as a new business, and more. Our focus is to provide helpful advice and knowledge to help fellow tech startups reach the success they deserve.
What were some of your experiences and challenges like in the early stages of launching a startup?
In the early stages of launching a startup, you need to have extreme confidence in yourself and your brand. A huge challenge you will face is negative comments and doubts from your peers, some of whom you would expect support from. This also pertains to which industry you're in, because a lot of times your competition alone can be really scary and intimidating. But here's the thing, if you have a strong idea for a business and you wholeheartedly believe in it, then you have already taken the first steps in the right direction as a founder.
What is your key advice to small business owners and entrepreneurs to look after their mental health?
We can confidently say one thing that helped look after our team's mental health, as well as many fellow business owners out there, is building a support group. It can be really lonely in the role of an early startup founder, but you're never really alone. There is a huge group of fellow founders/hustlers/entrepreneurs out there who have been through everything you're going through. They are ready and willing to give you the advice and support you need to face any stressful challenges that are known to affect mental health in negative ways. Also, aside from peers within the industry, remember to stay connected with your friends and loved ones, especially in 2021.
Supporting diversity across the startup community is important to eCommerce North and that's why we have aligned with the Government of Canada's 50-30 initiative. What does this commitment to diversity and inclusion mean to you, joining as a partner in the program?
Diversity, equality, and inclusivity are key values to Bookmark. But rather than just say these things, we believe in letting actions speak louder than words. We are also lucky enough to be in Toronto, so hiring amazing people from all walks of life has always come naturally when building our team. We have found that if you don't have a team made up of a diverse group of people, you will lose out on a global perspective - which can be very detrimental as a startup, especially in today's progressive and forward-thinking culture.
What are you looking forward to the most participating in the accelerator?
When participating in this accelerator, we're most looking forward to learning as much from other founders and business owners as they (hopefully) do from us. We know that whether you're a participant or partner-in-residence, everyone will mutually benefit from this program. We're excited to continue to contribute to Toronto's fast-growing tech ecosystem, and we can't wait to be part of bringing new ideas to a global stage.
Conclusion
We'll keep posting eCommerce North updates, so keep checking us out on Insights. If you or someone you know is interested in learning more about the program, you can sign up to get the latest details sent right to your inbox here.