PAYD Pro® - designed for business on the go
By Interac® Debit, credit or Apple Pay – give customers more freedom to choose.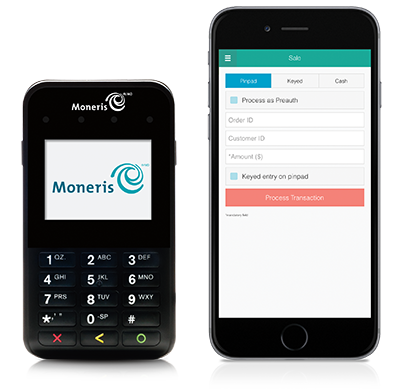 See how easy it is to transform your mobile device into a payment tool with PAYD Pro. Now you can accept payments from nearly anywhere with the PAYD App and the e355 PIN Pad, which uses high-speed WiFi or Bluetooth connectivity. You can also email or text invoices to your customers so you can bill now and settle later. With these indispensable options, your business is on whenever you need it to be.
Give customers the power to pay their way.
Contactless

It's all about speed.

Chip & PIN

If it's all about that little extra security.

Swipe

When it's all about convenience.

Send

Email or text invoices so you can bill now and settle later.
PAYD Pro smart tools – for business intelligence
PAYD Pro Toolkit
Explore our PAYD Pro online resources, including product guides, frequently asked questions, and more.
Learn More

Download, Sync Up and Go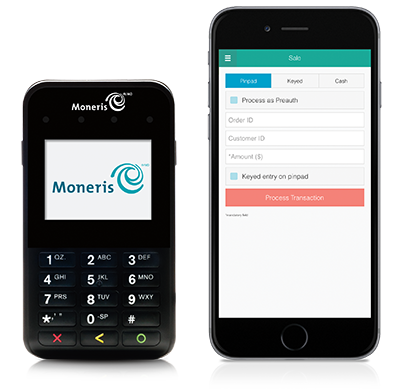 PAYD Pro
Free Interac Debit
2.65% for most credit card transactions(3)
24 hr support
Get Started Now
®MONERIS, MONERIS BE PAYMENT READY & Design, PAYD PRO, and MONERIS PAYD are registered trade-marks of Moneris Solutions Corporation. BLUETOOTH is a registered trade-mark of Bluetooth SIG, Inc. Apple Pay, and iPad are trade-marks of Apple Inc., registered in the U.S. and other countries. VISA is a registered trade-mark of Visa International. MASTERCARD is a registered trade-mark of Mastercard International Incorporated. INTERAC is a registered trade-mark of Interac Inc. DISCOVER is a registered trade-mark of Discover Financial Services. AMERICAN EXPRESS is a registered trade-mark of American Express Company. Google Pay is a trademark of Google LLC. Android, Google Pay, and the Google Logo are trademarks of Google LLC. All other marks or registered trade-marks are the property of their respective owners. (1) Some restrictions/limitations may apply. (2) You may be subject to a limit on your monthly credit card transaction dollar volume as set out in your merchant agreement. If you exceed this monthly amount, Moneris may begin withholding transaction proceeds for settlement in accordance with your merchant agreement. For payments made on an invoice, deposit timeframes commence after your customers complete payment of the invoice. (3) A fee of 2.65% applies to Visa, Mastercard, Discover, American Express and JCB credit card transactions that are swiped, tapped or dipped. A fee of 2.85% + $0.15 applies to those credit card transactions that are card-not-present. (4) Additional PIN pad Monthly Rental Fee of $19.95 applies to each additional e355 PIN pad ordered.