How one company makes giving back look cool
The Moneris® Merchant Scoop Series is dedicated to highlighting Canadian businesses thriving amidst an ever-changing landscape. Featuring exclusive interviews, learn more about the entrepreneurs behind the scenes, their stories of how they got their businesses off the ground, what it really takes to achieve success, and what the next steps could look like for a resilient future.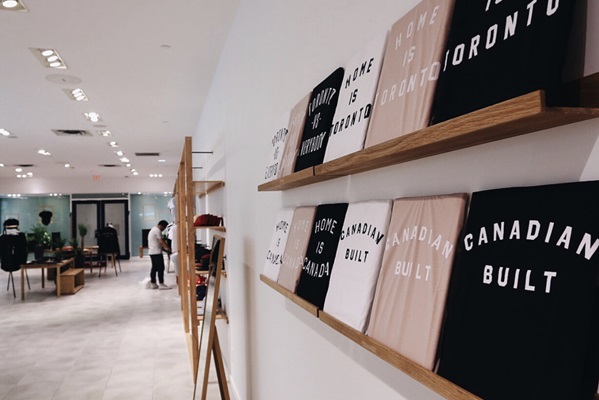 Home is where the heart is
Peace Collective (PC) is a global, Toronto-born, minimalist-style apparel brand whose mission is to help people look good while giving back to the causes and communities they are passionate about.
Co-owners Roman Hessary and Yanal Dhailieh met way back in elementary school, but it was their shared entrepreneurial and creative spirit that kept the friendship strong throughout the years. They ideated starting a business together quite often, but the vision finally came to fruition in 2014 when Dhailieh came up with the concept for Peace Collective.
The two enlisted the help of Lisa Diep to join the leadership team, and together, with their extensive professional backgrounds, created Peace Collective and everything it is today. Dhailieh focuses on creative and marketing matters, while Hessary manages external relationships, and Diep runs their day-to-day operations.
The launch of PC occurred very naturally. While at a Toronto Raptors game, Hessary and Dhailieh were dressed in their 'Home is Toronto' collection, which attracted lots of attention and was soon featured in the media. "We design pieces that make people look good and feel good while simultaneously giving back to causes that matter," says Hessary, and this was the event that officially validated their hard work, making them a fan-favourite.
Quality designs and paying it forward are at the heart of company's values, which dictates everything from their day-to-day operations to their most important decisions. Peace Collective donates to a range of charities, spanning from homelessness to mental health, to women's rights, and beyond. The partners seek any opportunity to learn, to grow, and to enrich the lives of anyone they can.
One for one: a concept born through pride
Peace Collective's product designs and partnerships are guided by their core values: compassion, authenticity, innovation and commitment.
These key elements have not only helped establish the company, but have shaped the brand's infamous 'one-for-one' model. Each clothing line is centred on a cause, and sales proceeds go to the charity associated with it.
Peace Collective's 'Home is Toronto' collection gives three meals for every item sold to the Daily Bread Food Bank. "We learned that people want to show their pride in where they come from, but in a modern and fashionable way," Hessary says. The Daily Bread Food Bank was chosen because of the major decrease the COVID-19 pandemic caused in food bank donations.
Driving from the core
When it comes to their brand positioning and marketing, the company doesn't stray from their corporate values, either. They have seen a direct correlation between their social media footprint and business growth. When PC first came about in 2014, Instagram was still a new platform. Peace Collective's social engagement gave them an opportunity to advertise and grow organically, and today they have amassed over 100K fans and followers.
Teaming up to make an impact
Collab outside the box
The company has partnered with other brands to champion causes, too. And they're not always with who you'd expect. One particular project that resonates with Hessary most is the McHappy Day® x Peace Collective collaboration, in support of Ronald McDonald House®.
McDonald's® donates a portion of proceeds from their menu items, and gives diners the option to add a donation for a pair of exclusive socks, designed by the apparel brand. "It really touched me because I had the opportunity to learn so much about what happens inside the Ronald McDonald House day-to-day," says Hessary, speaking of how much the charity impacts the lives of many children and their families.
The humbling experience is what serves as a baseline in choosing the organizations they team up with, and as an example of what Peace Collective is all about.
Partnering with service providers
Peace Collective chose Moneris as their payment processor from day one, and have remained a customer through all the years, the challenges, and celebrations. "Moneris has been there to provide solutions for our growing business and has guided Peace Collective each step of the way when we faced a lot of 'unknowns' in the world of payment processing" says Hessary.
The brand picked Moneris because of the competitive rates, a wide array of services, and the positive engagement they've come to expect with the customer service representatives. "The relationship began by just simply using Moneris as a payment processor, but it has evolved into much more than that. Moneris goes above and beyond in terms of reliability and support," says Hessary. "On the rare occasion of something not working, customer service representatives are right there to address the problem and make the experience seamless."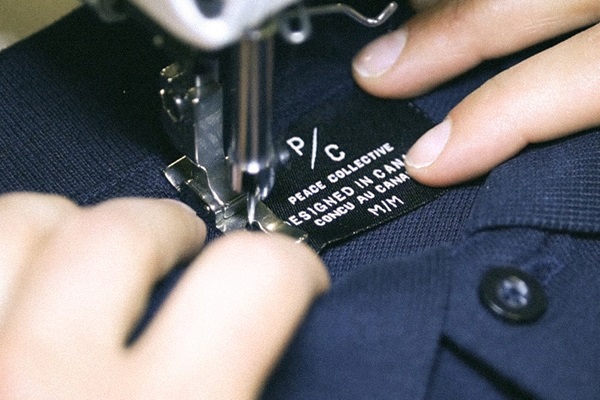 Home is everywhere: the future of Peace Collective
Like many businesses during the COVID-19 pandemic, Peace Collective faced its own unique set of challenges. The company is a major supplier of official sports team merchandise, and with leagues shutting down, they experienced a major loss in sales. However, as athleisure became one of the biggest trends of 2020-2021, they were able to keep their heads above water. Despite the setbacks, the company continues to thrive and evolve, allowing customers to pay how they want, and where they want, whether it's through safe online payments, or contactless and in-store.
As Peace Collective moves forward, the company is planning on expansions beyond Toronto. Whether we'll be seeing them pop up in the west coast, in US markets, or new territories domestically is still in the works. What we can be sure of, is that the brand's one for one model is here to stay, and will continue to strengthen the communities it reaches.
Look good, do good, feel good. Check out Peace Collective's fresh gear, and give back to the causes and communities you're most passionate about.
MONERIS and MONERIS & Design are registered trademarks of Moneris Solutions Corporation.