How a struggling gym became a pillar for empowerment and inspiration
The Moneris® Merchant Scoop Series is dedicated to highlighting Canadian businesses thriving amidst an ever-changing landscape. Featuring exclusive interviews, learn more about the entrepreneurs behind the scenes, their stories of how they got their businesses off the ground, what it really takes to achieve success, and what the next steps could look like for a resilient future.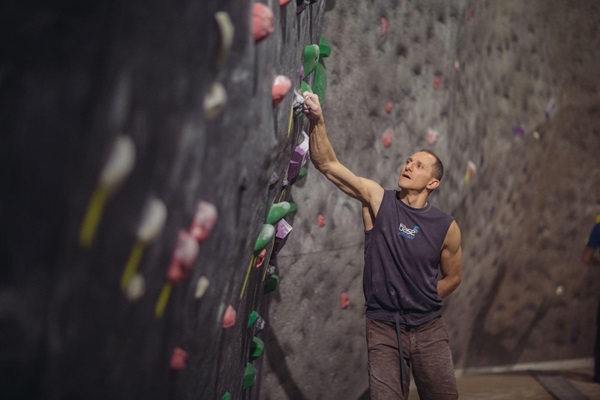 Building a strong community from the ground up
Community. Connection. Creativity. These are the pillars of Climb Base5, Metro Vancouver's largest rock-climbing gym.
Danielle Poggi took ownership of a struggling rock-climbing gym in 2014, and rebranded it to what is now Climb Base5. She changed the business name to reflect her approach to the sport. The word 'base' was chosen because she wanted the gym to be a welcoming ground for climbers to meet, establish a connection, and build meaningful relationships within the climbing community.
Danielle is an avid climber who's scaled her way across many countries, learning from all the cultures she's encountered through the years. Her sport has also helped foster lifelong friendships within the climbing community. These experiences have proven to be invaluable to her, and that is exactly what she wanted to create back home: a space for climbing enthusiasts to come together, to support one another, and share their passion for the sport.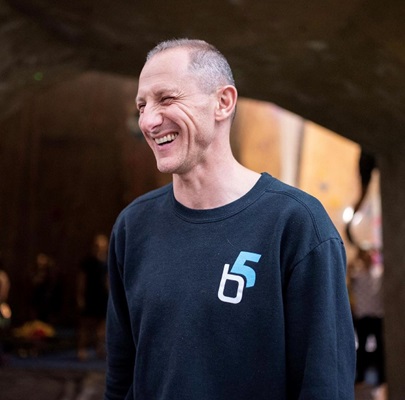 Many climbers return to Climb Base5 for the deeper communal connections they've built. Today, with two locations in North Vancouver and Coquitlam, the gym continues to place a strong emphasis on inclusivity, having fun, and discovery.
Building connections means finding the right fit
Employees as ambassadors
It's important to Poggi to create a sense of family and togetherness, and connect with her staff on a more meaningful level. "The real joy is being there because I get to talk to our managers, staff, customers and other gym owners. It's an opportunity for me to really slide into their world and understand the business from their perspective," she says. Learning about their lives makes each day special and there is always something interesting happening at the gyms.
Service providers as partners
Danielle's journey with Moneris began when she knew certain changes were imminent when it came to business and financial matters. Moneris stood out to Climb Base5 because it was clear from the start that it was more than just a company offering products and services.
"My first impression of Moneris was that customer service representatives were much more than just 'representatives.' The emphasis Moneris places on establishing meaningful relationships with their customers is transparent during day-to-day interactions," says Poggi. She saw how the support team valued her business needs, putting real effort into both understanding Climb Base5 and developing a solid connection with her. That's what led to earning her trust from the very beginning and entrenching their professional relationship.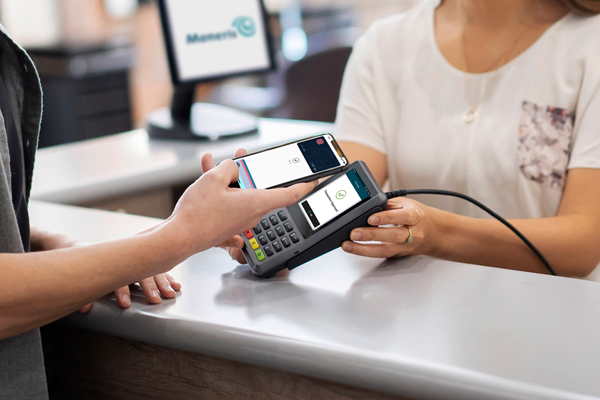 Climb Base5 now uses Moneris Core terminals at all its locations, noting the accessibility features which include larger fonts, reduced colours, high-contrast displays, and audio prompts for cardholders.
They also use the portable Moneris Go terminal for those times when they take the trailer or climbing wall on-the-go, or sell merchandise. With its 4G connectivity and long-lasting battery life, Moneris Go is the perfect terminal for accepting contactless payments anytime, anywhere. Since these off-location events can have over 400 people in attendance on any given day, for business owners like Danielle Poggi, it's vital to have an efficient and reliable wireless terminal setup.
Building through creativity
One of Poggi's favourite aspects of climbing are the endless possibilities for inspiration. "I am passionate about climbing because the movement captures my imagination." She encourages everyone who enters the gym to unleash their creativity.
When a climber walks through the gym, they're surrounded by imperfectly placed rocks all over the walls. This allows them lots of flexibility when it comes to how they approach each climb. They can utilize their strength and test their limits or may approach the activity leisurely instead. Climbing teaches participants that if the mind is open, their capabilities will be too, giving them the resilience to work through anything and set themselves free of all obstacles.
For Danielle, the gym is much more than just a place for physical activity; it's about embracing the art of movement and climbing, taking inspiration from others, and working through our own limitations to continue growing on one's journey.
It's only up from here: the future of Climb Base5
As the company continues to evolve, Poggi is looking to create an ecommerce store through
Moneris so she can offer more consumers the opportunity to purchase her merchandise. Climb Base5 is excited by the flexibility of using Moneris Go as the company grows and books more off-site events. With their gyms, portable climbing wall, and retail store, the business continues to welcome people who are eager to share their passion, explore their creativity, and build a stronger community of climbers and like-minded individuals.
If you're looking for a rocking place to learn new skills and grow as a climber, check out Climb Base5. Book a slot at one of their locations in North Vancouver or Coquitlam for long, steep, lead routes and amazing bouldering!